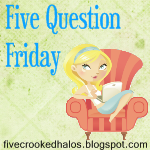 1. What do you listen to while driving?
When the kids are in the car, we usually listen to Barenaked Ladies, Snacktime CD. If we are on the way to school, it's usually the whining and fighting over the one and only toy in the back seat.
If I'm alone, I'll listen to music or traffic reports. The last two days I've been listening to an audio book. I've been trying to listen to The Girl with the Dragon Tattoo. This is the first time I've tried to listen to a book like that as an audio book. I'm not sure I like it. I think I would much rather hold the book in my hands and read it. Problem is, if I wait until I have time to do that it will never happen.
2. What is your least favorite thing about Fall?
I really like fall. I love the crisp cool weather. I love the changing leaves. There isn't much I don't like. I can say I don't like that with fall and the return of school our schedules are so busy. I feel like we are running non stop and every moment of our life is planned out. I may have to schedule in some down time.
3. What does your dream house look like, inside and out?
I have two houses I would really love to have. One would be a perfect little mcmansion. Preferably in a cul de sac of a gorgeous little private community with a pool and a golf course.
My second choice, though much more work, would be an old victorian home with a huge wrap around porch. I live in a pretty old home right now and would not want to do all the work to an old home. They are so pretty though!
4. Would you ever own a minivan?
We just had this debate as we needed to replace one of our cars. In the end we went with an SUV. I like the space and the features a minivan offers, I just don't feel quite right saying, "I drive a minivan." We only have two kids and now that they don't need all the baby gear and stuff lugged around with them all the time, we don't really need all that extra space. I think if we had another kid, we would have to go for a minivan. I just can't see fitting 3 kids and carseats/booster seats in what we have now.
5. Do you wash new clothes before wearing them?
When the kids were babies I definitely did. Underwear is a definite yes. Anything else is a no. I probably bought them because I was behind on wash as it is, so would I wash the stuff I just bought? Negative.
You can also find me hopping with these blogs today: