Someday I will get back to regular posting, but for now here's a Five Question Friday.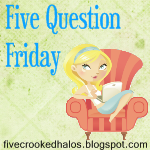 1. What is the first nightmare you remember?
I remember being about 8 years old. I think I had heart burn from the keilbasa we had for dinner. I remember my stomach hurting really bad and I went and laid in my mom's bed. I had a really freaky dream about a cemetary and hiding behind the tombstones.
2. Even if you're not a sports fan, what's your favorite sport to play/watch?
I love Baseball. More so in person, but I will watch it on TV too.
3. If you could pull off one piece of trendy fashion, what would you want it to be (jeggings, hats, thigh high boots, etc.)?
Thigh high boots in my dreams! Other than that I would love to wear scarves, but I always feel like a dork when I put one on.
4. Did you make good grades in school?
I did. I was on honor roll all through elementary. I attended an academic high school where I promptly slacked off and started goofing around. Let's just say I didn't make honor roll after that.
5. What magazines do you subscribe to?
Rangefinder, Ladies Home Journal, OK, Readers Digest, Southern Living and Maxim. The only ones I actually subscribed to are Rangefinder and OK. Not sure how I started getting the other ones.